In March, a group exhibition titled "Gold Experience 2" will be held at the Satellite Gallery of Aichi Prefectural University of Fine Arts and Music in Nagoya. This show is a second edition of the one held in 2010 at Hyun Gallery in Seoul with 6 artists from Japan and Korea. This time, 7 artists' works will be exhibited.
Different techniques as well as cultural/aesthetic meanings and implications have been developed in the East and the West as to the use of gold leaf in painting. By showcasing the paintings of contemporary Japanese and Korean artitsts and examining a wide range of variety in techniques dealing with gold leaf as well as subjects matters, this exhibition aims at highlighting the important but often overlooked aspect of technique and material in contemporary art, and painting in particular.
In additioin to the main exhibition in Nagoya, we will also organize a two-day special exhibition at Jokaiso (former Takeuchi Residence), old townhouse in Komaki City nearby Nagoya, on March 10th and 11th. We are planning a reception party and event on March 10th at Jokaiso, which is a unique fusion of traditional Japanese and European architectural styles.
"Gold Experience 2: in Nagoya & Komaki - Homage to the Golden Tigerfish"
Venue: Satellite Gallery of Aichi Prefectural University of Fine Arts and Music, Nagoya / Jokaiso (former Takeuchi Residence), Komaki
Date: March 9 - 18, 2012 (March 10 & 11 at Jokaiso)
Artists: Ryoko Kimura, Noriyori Shirakawa, Masako Yasuki, Takuro Noguchi, Hyunjoo Park, Ho Han, Chion Lee
Opening reception:
March 9, 2012, from 5:00pm at the Satellite Gallery of Aichi Prefectural University of Fine Arts and Music
March 10, 2012, from 1:00pm at Jokaiso (former Takeuchi Residence)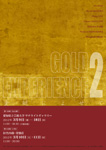 > more